BRIGHT STAR FIREWORKS AUSTRALIA SAFETY BOOKLET
Congratulations Tasmania. We have a great track record for Fireworks
Safety since 2002-Keep it up!

FIRE PREVENTION
When using in rural areas be extra careful; do not use near dry grass or bushland. Clear ALL flammable material around the fireworks to a distance of 5M Have ready some means of putting out a fire e.g., Extinguisher/garden hose/firefighting pump
ASSISTANTS DUTIES
It is necessary to have an assistant who must take responsibility for crowd control, manning firefighting measures and ensuring that during the display no debris is falling outside of the firing site. You are responsible for ensuring that any assistants have an adequate understanding of the hazards, safety rules and instructions.
LIGHTING DEVICES
Windproof gas jet style butane lighters are the best gas lighters and are available from many Service Stations and Tobacconists. The standard BIC lighter is not good enough as it will blow out in the wind.
Incense sticks or "Punks" (Tapers) burn for 20 minutes with a glowing tip that can light fuses. Blowing on the tip before touching it to fuse will make it glow hotter. These may have been provided.
• Special lighting sticks called Portfires have been provided with our Pro Packs.
• It will burn similar to a small flare. Each Portfire will burn for four to five minutes.
•Keep your supply of Portfires in a spark proof container e.g. cardboard box that is readily accessible during the display. Light a new Portfire when it has burnt down to the handle
STORAGE
Store out of the reach of curious children in a building (other than a dwelling or office) that is locked in the absence of a responsible adult. When transporting, store in the boot compartment, not the passenger area.
LIGHTING TECHNIQUE
Position the fireworks so that all the fuses are facing the same way so that it is easy to locate them in the dark. When lighting never place any part of your body over the top of a firework.
*Golden Rule* Never return to a firework that has failed to light.
AFTER THE DISPLAY
Never throw used fireworks in the Bonfire As any unexploded tubes may ignite and shoot out at bystanders causing serious injury Check the surrounding area for components of the fireworks that have failed to explode. Remove otherwise children will pick them up and may injure themselves. Never give away the used fireworks as they may still contain live components.
PERSONAL SAFETY EQUIPMENT
-Safety glasses for eye protection.
- Non-synthetic clothing preferably cotton overalls buttoned at the neck
-Cotton cap to prevent sparks falling in the hair
YOU WILL NEED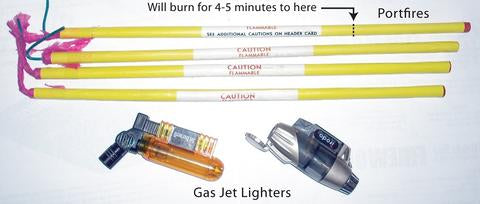 ·Torch preferably a head torch so your hands are free
·Flat boards and a couple of bricks/nails
·Silver duct tape
·Hammer
·Bucket of sand
·Wooden pole/ piece of timber/ star dropper
·Lighter
·Safety Glasses